Shipston: 01608 661677
Bourton: 01451 810885
Product Search:

Category Archives:
Latest News From Fosseway Hire
March 2022 Promo
March 2022 Promo Garden machinery hire.- It's really busy now! March and April is the time when everyone seems to want to get out into the garden and prepare it for the summer. This means the garden, allotment and lawn care machinery we hire is in high demand! You can see the promo here – […]
---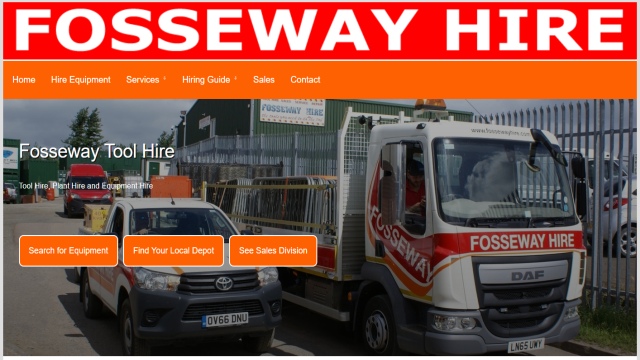 Find Hire Products
Find Hire Products Quicker With Our Product Search To make it quicker and simpler to find tools for hire or plant for hire on the Fosseway Hire site we have created this handy looking product search feature. Simply enter the produvt, tool or plant you are looking for. FOSSEWAY HIRE Find Tools & Plant For […]
---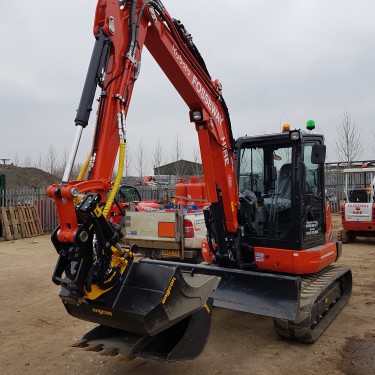 Tilt Rotators
Tilt Rotators Really nice to see that digger drivers are calling us and asking to hire diggers fitted with tilt rotators. Our Engcon equipped machines are often a talking point when customers see how quick and versatile an excavator can be when it has a tilt rotator fitted to it. See video of tilt rotator
---
Need a lawn mower now?
Need a lawn mower now? Is your lawn mower refusing to start today? We can hire you a good one that will start and perform whenever you need it. In fact we can hire you lots of different machines for the garden. See our garden equipment hire page
---
February 2022 Promo
February 2022 Promo This months Promo talks about the lifting and haulage service provided by Fosseway Hire You can see the promo here – February 2022 – Fosseway Lifting & Haulage Service Or you can read more about the Fosseway Delivery, Haulage, Site Lifting Service
---
Hiring Multiple Dehumidifiers
Hiring Multiple Dehumidifiers With the high winds and heavy rain potentially leading to flooding we were asked if we have more than one dehumidifier for hire – We will let this photo answer the question 😉 See our Dehumidifiers For Hire page or our range of Dehumidifiers and Dryers Call Now For Latest Dehumidifier Hire […]
---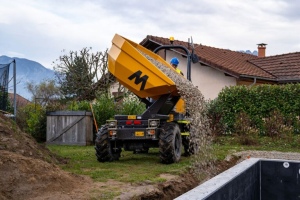 Praise for Mecalac Swivel Dumpers
Praise for Mecalac Swivel Dumpers Customers have been telling us that our 3 ton swivel skip dumpers are the best dumpers they have ever driven. It's seldom that anyone mentions the humble dumper truck, as it's seen only as a beast of burden, so it means a lot to us when someone praises how good […]
---
Tarpaulins For Sale
Tarpaulins For Sale Warwickshire We sell traditional blue plastic tarpaulins, with eyelets for securing them in place. Ideal for lots of jobs indoors and out and very popular with builders and owners of small holdings. Tarpaulins are a quick, economical and easy solution for protecting your equipment. Available in 3.6m x 5.4m and 5.4m x […]
---
Hiring a Narrow Micro Digger
Hiring a Narrow Micro Digger If you need to hire a small digger to fit through a narrow gap, for example driving the digger down the side of a house to get to the rear garden, we have some excellent micro diggers. Powerful enough to do the job, yet only 760mm wide when the tracks […]
---
Hiring Water Pumps
Hiring Water Pumps Strong winds, high rivers, lots of rain, sodden fields the perfect storm for flooding Fortunately Fosseway Tool Hire have plenty of water pumps on the shelves at both our Shipston and Bourton depots See our range of Water Pumps for Hire Tweet
---
SHIPSTON DEPOT 01608 - 661677
Unit 1, Tilemans Park, Tilemans Lane,
Shipston-on-Stour, Warwickshire, CV36 4GX
BOURTON DEPOT 01451 - 810885
4 Willow Court, Bourton Business Park,
Bourton On The Water, Gloucester, GL54 2HQ
The premier Tool Hire company in Warwickshire, North Oxfordshire,
Gloucestershire
and the Cotswolds. We are delivering in your area.
CV33 - Harbury, Offchurch and Leamington Spa, CV37 - Alveston, Ettington, Long Marston, Alderminster and
Stratford-upon-Avon
, GL55 & GL56 - Chipping Campden,
Moreton-in-Marsh
and Bourton-on-the-Hill, CV35 - Kineton, Claverdon, Barford,
Wellesbourne
, CV47 - Burton Dassett and Southam, OX15 -
Brailes
, Banbury, Hook Norton and Tadmarton, CV36 - Blackwell, Idlicote, Long Compton and
Shipston-on-Stour
, GL54 - Stow-on-the-Wold, Bourton-on-the-Water, Northleach, Chedworth, Winchcombe and Cheltenham, OX18, OX7 & WR12 -
Burford
, Bruern Abbey, Enstone,
Chipping Norton
and Broadway
Plant Hire Gloucestershire
© 2022 Fosseway Tool Hire